If you've been looking for something different, then this is it!
We've always made it known that we're passionate about helping people project their individuality through their eyewear. At Campbell Eyecare we don't deal in the safe and so-so, we seek out truly innovative and charismatic eyewear designers and bring their creativity to you.
This month we're featuring Theo Eyewear, just one of the niche design brands Campbell Eyecare works with to bring you eyewear with the individualist in mind. We'll be touching on what makes Theo such an important addition to our host of exclusive eyewear suppliers, and just what makes their designs so unique.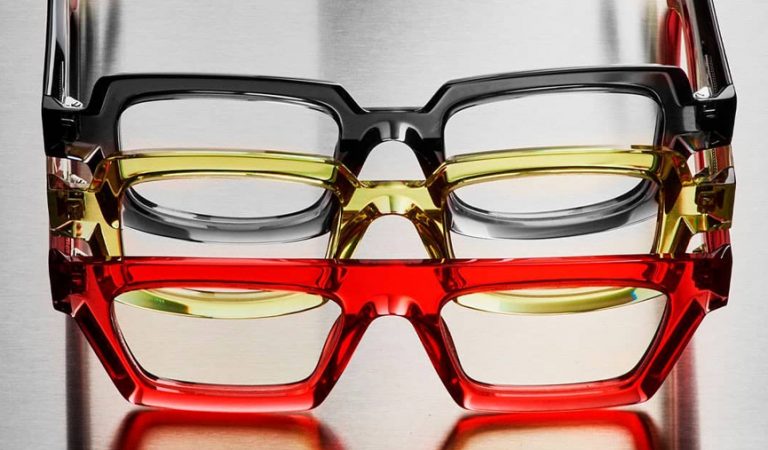 Based in Antwerp, Belgium, Theo has absorbed the charismatic, avant-garde culture of the mercantile city. It's no wonder that the beating heart of culture in the Low Countries, which through its famous port has passed everything from potatoes to diamonds, produces such a vibrant and varied design scene. Theo pulls heavily from these influences, drawing inspiration from traditional practice while injecting youthful innovation through their collaborations with students from Antwerp's Royal Academy of Fine Arts.

Theo styles itself as more than just a designer of spectacle frames. Each of their designs are treated as miniature art pieces – wearable reflections of the shapes, objects and colours that make up our internal and external selves. Each frame design invokes the feeling of different shapes and facets coming together to create a whole, inspired by the organic and the inorganic, the tangible and the abstract.

This wide range of influences are evident in every one of Theo's collections, each one dealing with a very different "genre," from the cool, typographically-inspired "Characters" collection to the unabashed youthfulness of the "Mille" range. Even the aforementioned potatoes get their time to shine with the "Happy Potatoes" collection promoting a material mash-up any lover of mixed media will want to get their teeth into.
Theo Eyewear - Meet the Characters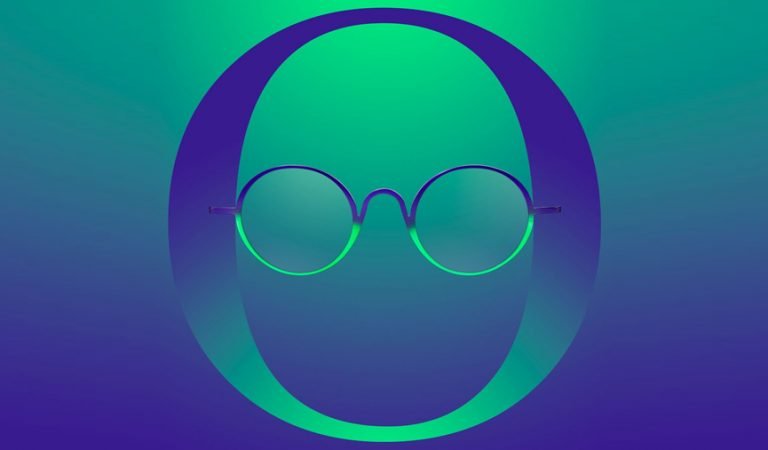 Demonstrating an affinity for simplicity and elegance, Theo's "Characters" collection draws inspiration from some of the most recognised typefaces known to the printed word, deconstructing the lines of "Constantina," "Garamond" and "Romana" and adding a functional twist in aluminium. Unlike a printed letter, no two Characters are the same, thanks to the optional hand-sprayed gradient paint finish, which looks stunning on the subtly sparkling aluminium. Each finished piece is "one-of-one"; an individual – not a reprint.
Colour is one of those design elements that people pick up on almost immediately, and it's no surprise that colour takes center stage in all of Theo's designs. Almost all of the frames in Theo's range can be customised with a huge range of colours, patterns and combinations. Options like the gradient finish provide an opportunity to express your creativity in a way that other brands simply aren't equipped to offer.
Theo Eyewear - Happy Potatoes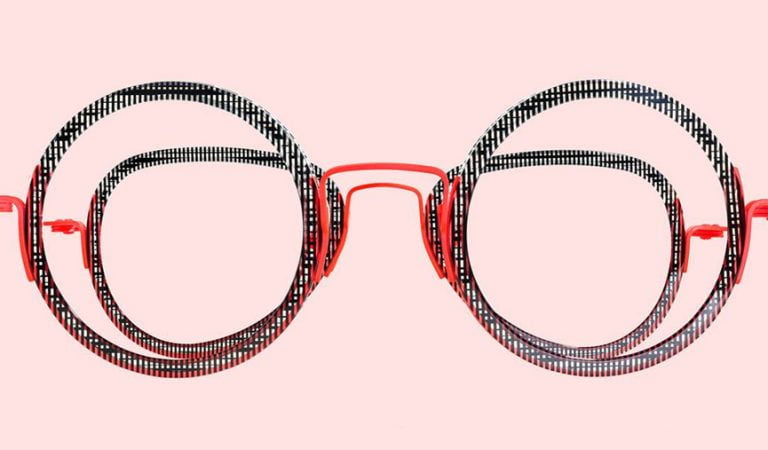 The "Happy Potatoes" collection invokes the unapologetically quirky. Flexible, accessible and bursting with character, these frames are a versatile hybrid of aluminium and acetate, a "mash-up" of the tried and tested with the innovative (including their unique "pop & click" lens replacement system.) These frames are the canvas where individual taste can be displayed – an endless combination of patterns and colours can be put on display here, with friendly shapes named after familiar veggie staples, "Spinach," "Sprouts" and "Carrot" to name a few.

Theo is all about changing up the previously conceived and providing an alternative to those of us left unchallenged by the usual eyewear options on offer. Rather than play it safe with samey, sedate frame designs, all of our eyewear partners, Theo included, are chosen by us because they offer something you can't find within chains and large high street opticians – originality, flair and individualism.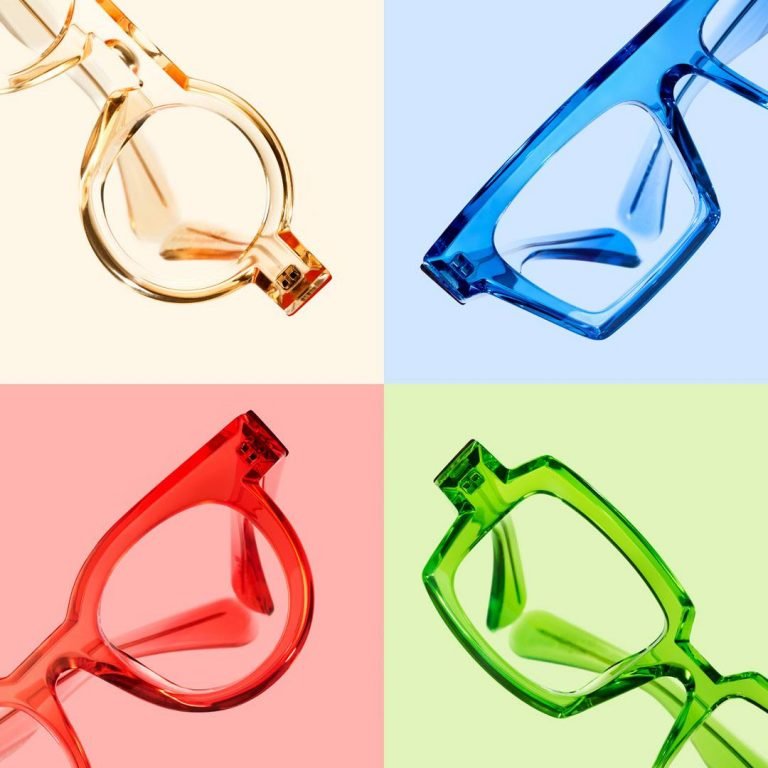 Bucking the crowd means knowing when to follow a trend and when to make it your own. A perfect example of this can be found in Theo's "Mille" range. These frames are inspired by the younger crowd – the Millenials and Gen Y's who are entering and informing the fashion world. When chunky acetate frames exploded into popularity, Theo didn't let others take the lead. Instead they took that trend and dialed it up to 11, making their range of luminous acetate frames chunkier, bolder and more playful than any brand had yet dared. A siren song to those who can't bear to be understated, the Mille range invokes a nostalgic, almost toy-like aesthetic, which can be tailored to be sharper or softer with a range of elegant shape options.

If you're reading this and wondering whether a more adventurous style would suit you, or if you should just stick with what you know, then give Campbell Eyecare's eyewear styling guide a read. It's our exclusive look into the eyewear industry and why "designer eyewear" isn't all that it may seem at first glance. It also highlights why getting the best advice from a real expert is so important when making choices about your eyewear.
The guide to choosing glasses

that look good and feel great
Campbell Eyecare's exclusive eyewear styling guide is our love letter to choosing glasses that make you look and feel great.
Theo Eyewear - The Importance of Individualism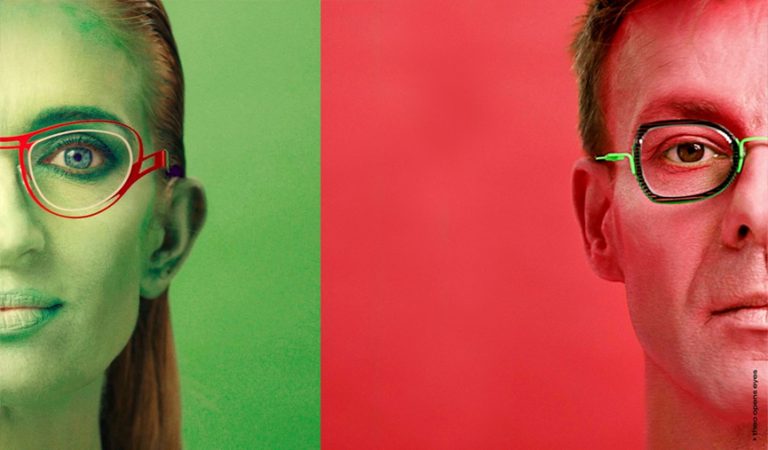 If you've ever read our eyewear styling guide, you'll know how seriously we take individualism when it comes to eyewear. We firmly believe that eyewear isn't purely functional, but can form a key part of your fashion, your style – your own personal brand. We believe a style that is "personal" to you is one that you shouldn't be able to walk down the street and bump into other people wearing. That's why we don't deal in the mass produced; we seek out unique, exclusive styles to give you that sense of true individuality.

Designers like Theo produce their frames in much smaller quantities than the more well-known brands you may be familiar with. These frames can't be found in chain opticians and department stores, they are only stocked by independent opticians who are in the know. Small opticians like Campbell Eyecare carefully curate the styles that they offer, with the goal of recommending styles that you'll not only fall in love with, but won't find anywhere else.
From Antwerp to the North of Scotland
You don't need to go all the way to Belgium to discover Theo's world of colourful and creative eyewear. Campbell Eyecare is your local stockist of Theo Eyewear's range, and from our Tain and Alness practices will work with you to discover the frames that help you share your individuality.

Share your individuality with Theo Eyewear and Campbell Eyecare. Arrange a free styling consultation in one of our fully-equipped practices in Tain or Alness and see how Campbell Eyecare can help you discover the eyewear that lets the world know you're an individual. Give our friendly team a call on 01349 882 863 (Alness) / 01862 892 559 (Tain) to learn more, or request your consultation using our simple online form today.