How do you know when you've found "the one?" When it comes to eyewear, matching your glasses to your face shape can make all the difference – there's nothing quite like falling head over heels with your new look!
This Valentine's Day Campbell Eyecare is walking you through a couple of methods for finding that natural balance and discovering styles that really make your heart sing. We'll also touch on our expert styling service, designed to ensure you never fall out of love with your perfect pair, as well as how you can get your hands on our exclusive style guide.
The guide to choosing glasses

that look good and feel great
Campbell Eyecare's exclusive eyewear styling guide is our love letter to choosing glasses that make you look and feel great.
It's A Match! Matching Glasses To Your Face Shape
If you've picked out new frames recently, you'll know it can be a daunting process. Not only is comfort and practicality a consideration, but so is how the frames' design suits you – from your personal style, to how well the shape of the frames compliment your natural features. Do you choose thin, narrow frames for an understated look? Or do you go for something wider and bolder – something that really makes a statement? This Valentine's Day we're walking you through the process of choosing eyewear you'll really adore.
Glasses should be as unique as the person wearing them, and nothing could be more unique than your face and how your features fit within your unique shape. While there are no hard and fast rules about which frames will suit which individual, having a little guidance can certainly make the whole process easier and much more enjoyable.
There's a huge amount of variation in face shape, however there are four broad categories that most people will find themselves in: round, oval, heart-shaped and square. We'll cover each of these categories to give an example of some of the things we consider when recommending eyewear styles.
Matching Glasses To Your Face - Round Face Shape
If you have a round face, your soft and curved features may be complemented by round frames. There are varying degrees of roundness – from a perfectly circular shape which sparks curiosity and shows off your youthful and creative side, to slightly more diamond or octagonal shapes – a slight edge can add interest and an air of maturity. Round frames are great for emphasising the eyes and working with the fine balance of your features.
Matching Glasses To Your Face - Oval Face Shape
The oval shape is a little taller and narrower than the round face shape. The benefits of this is balance between top and bottom – almost any frame shapes will work, from angular styles to the more rounded. Some people with oval faces may wish to try a slightly wider frame style – this can help maintain your natural balance. Cat eye frames often look great on people with oval faces, as can other bold styles like aviators.
Matching Glasses To Your Face - Heart Shaped Faces
The heart shaped face is characterised by a narrow jaw and chin and a wider brow area. There are lots of options to help emphasise balance here – again a slightly wider shaped frame can complement heart shaped faces. Lots of glasses frames will work – but oval frames can help give a little horizontal dimension. The smooth lines will also compliment your softer features.
Matching Glasses To Your Face - Square Faces
Square faces tend to be a little more angular, with a wider forehead and chin and straighter lines. Edgier styles work great with this face shape, with a dynamic rectangle frame working to bring out a more masculine look. For adding roundness or a more feminine edge, something a little more rounded but with a geometric slant can work wonders.
While we can use these broad shape categories to make more generalised recommendations, we know from experience that there is so much variation in people that it's better to chat with an expert to get the full picture on what style will suit you as an individual. Our styling team takes much more than just face shape into account when making recommendations about eyewear, which is why we always recommend you take advantage of a free eyewear styling consultation.
Make A Date With Our Eyewear Stylists
If you've ever found it tricky to find an frame style you really fall in love with, you're not alone. High street and chain opticians just aren't set up to devote the level of personal attention required to ensure every customer goes away loving their eyewear. Instead, you're often left to stare at a wall of frame options of all different shapes and sizes, with no way of knowing what really looks good on you.
At Campbell Eyecare we do things differently. Our expert eyewear stylists work with each and every one of our clients for as long as it takes to find their "perfect pair."  Rather than leaving you to choose from an impossibly huge range of style options, we take the time to take all of your unique features into consideration before making recommendations we know you'll fall in love with. 
It all starts with a eyewear styling consultation with one of our highly trained experts – which we offer for free with absolutely no obligation to buy afterward. We want everyone who has been left daunted by choosing eyewear in the past to experience a better, more personal and fun way of discovering the style they'll go on adoring. And with our "Love Your Glasses" guarantee, you won't have to suffer a messy breakup should you find your glasses aren't fitting right or you have any discomfort with the lenses – we'll replace them for free within 60 days.
Our Love Letter To Eyewear Styling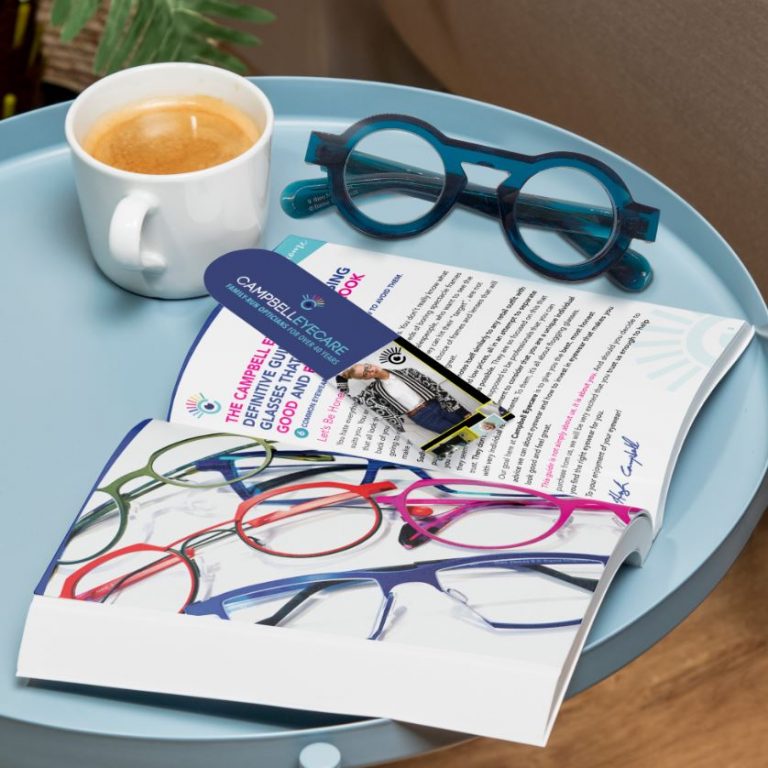 It's no wonder why choosing the right glasses for your face shape as well as all your other unique features is so important. They're part of that vital first impression – one of the first things a person is likely to notice about you. 
We want your relationship with your eyewear to last. That's why it's important to get the right advice from experts in the know. We feel so strongly about pairing people with the perfect style that we created our exclusive eyewear styling guide – our 45-page love letter to eyewear styling, which outlines how to get the best advice and guidance about finding your perfect eyewear match.
Like our styling consultation, our styling guide is free, and designed to give you the confidence to choose eyewear that you'll really love. Request yours today or pop into one of our practices to pick up your free copy.
Whatever your plans this Valentine's Day, our styling experts are on hand to help you discover eyewear you'll love. Arrange your free eyewear styling consultation with us today in one of our fully-equipped practices in Tain or Alness and see how Campbell Eyecare can help you discover your perfect eyewear match. Give our friendly team a call on 01349 882 863 (Alness) /

01862 892 559

(Tain) to learn more.