Choosing frames can be a tricky process. For those who wear glasses, the ritual of standing in front of a wall of innumerable frame options is a familiar one. Given the huge range of choice, it's no wonder many people leave their local high street optician with frames that seem to dig in all the wrong places. One of the most common questions we see from people online regarding their new frames is "why do my glasses hurt behind my ears?"
We'll be taking a look at some of the most common eyewear comfort concerns, and exploring the reasons why your frames might not fit as well as they should. We'll also be filling you in on how to avoid the kinds of frames that are likely to dig, leave dents in your skin or slide down your nose.
Why do my glasses hurt behind my ears?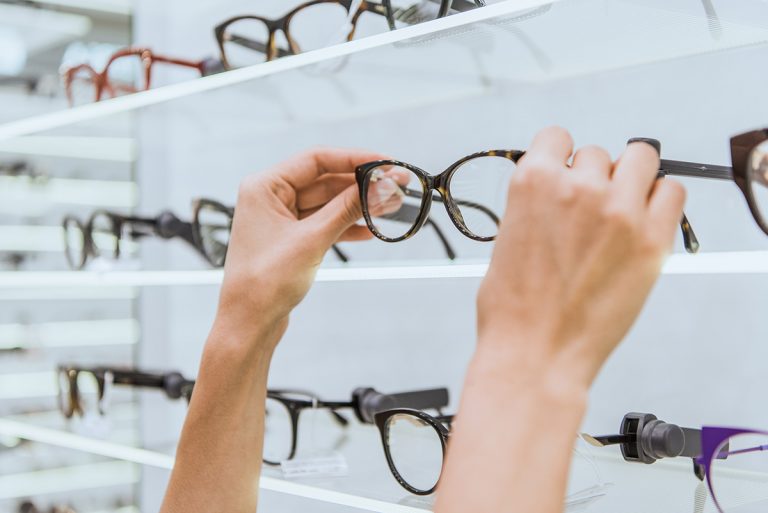 One of the most common questions you'll find regarding eyewear comfort is "why do my glasses hurt behind my ears?" This one crops up so often because discomfort caused by the "temples" of your frames (the long part that holds your glasses in place, sometimes called the "legs",) is often the first thing you'll notice after wearing your new eyewear for a short amount of time.
The reason your frames might hurt behind your ears is that the frame size is simply too small for the size of your head. If you feel a niggling pain or uncomfortable pressure where the temple tips meet the area behind your ears, chances are your frames are just too tight. 
Every head is different in terms of size and shape. Frames that fit one person to a T might be too tight and cause discomfort for another. Unfortunately, the question "why do my glasses hurt behind my ears?" is most likely to come after purchasing your frames from a large optical chain or retailer.
Mass-produced "designer" frames are just that – produced on mass, for the masses. They're designed to be one-size-fits-all, with generic shapes that look "ok" on any head shape and just about fit any head size. The problem with this is that every head size and shape is unique, meaning a lot of people unfortunately end up living with frames that just aren't right for them.
We go into more depth about why mass produced lenses often fail to live up to expectations in our exclusive style guide, which you can order for free.
The guide to choosing glasses

that look good and feel great
Campbell Eyecare's exclusive eyewear styling guide is our love letter to choosing glasses that make you look and feel great.
What can you do about too-tight glasses?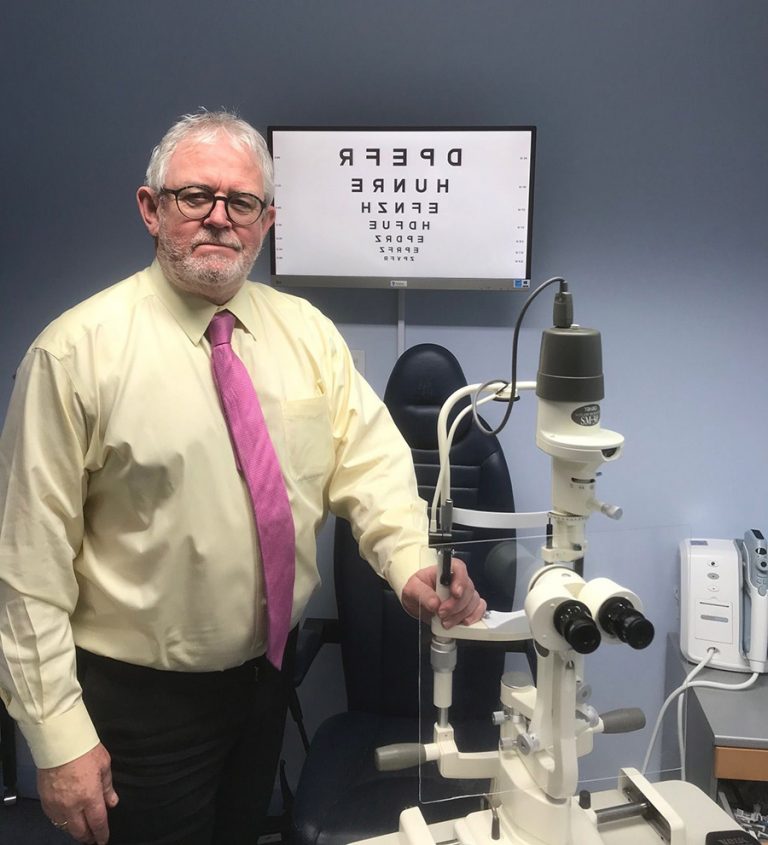 If your glasses are uncomfortable around your ears or temples, an adjustment to your frames may provide some relief. A professional optician should always be sought to help you adjust your frames – whether it's realigning the nose pads to get them to sit straight on your face, or using a special heating tool to flex plastic frames into a shape that is more comfortable for you. 
Avoid online guides that advocate DIY adjustments at home – not only is this likely to result in an even worse fit, but you could cause irreversible damage to your frames (some materials simply cannot be adjusted by anyone other than a professional, such as aluminium alloy, titanium and memory plastic.)
Why do my glasses keep sliding down my nose?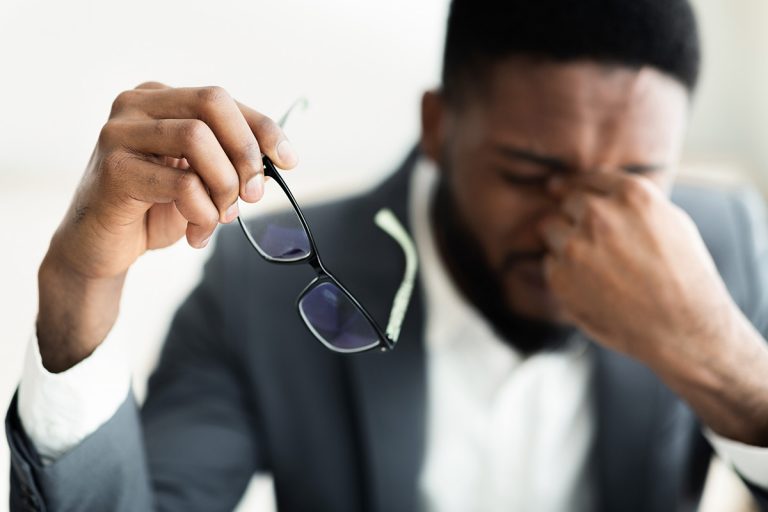 Glasses that slide down your nose over time are the result of your frames being too wide for your face. If your nose is too narrow or the combined weight of the frames and lenses is too heavy, then you're likely to find yourself pushing your glasses back into place throughout the day. Frames without nose pads can also be prone to sliding if they are not fitted correctly or are not the right size for your face.
Why do my glasses fall when I look down?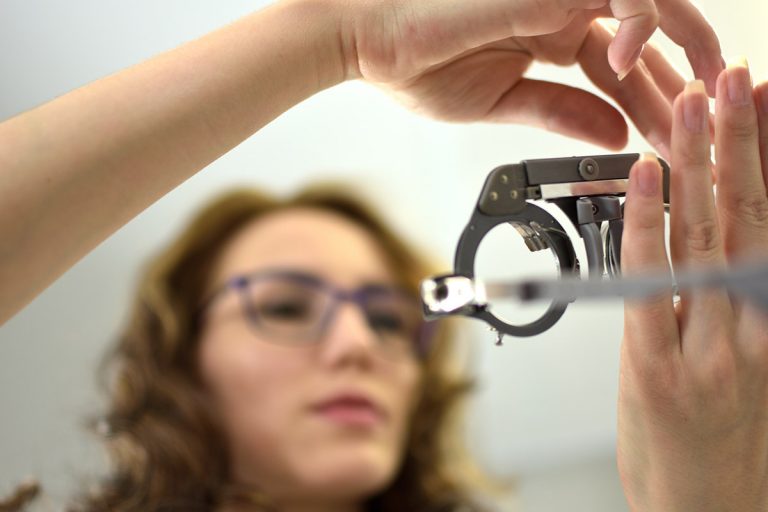 Glasses that just aren't the right fit for your head shape are prone to slipping and falling because your nose bridge isn't wide enough to provide the correct support. While this problem can be annoying, in the worst cases glasses that fall down can be so loose that they fall off your face if you tilt your head too far forward. Not only can this cause your glasses to fall to the ground and potentially break, it can be dangerous if you are driving.
There are some solutions for how to stop your glasses falling down. In some cases, your frames might just need an adjustment. As always, it's important to get a professional to do this for you – DIY adjustments risk making the problem worse. There are also a variety of products such as eyeglass retainers and non-slip pads that can provide some relief – however these simply mask the issue of your glasses not fitting correctly in the first place.
How to stop your glasses falling down
Prevention is better than cure. The key to stopping your glasses falling down, feeling too loose or tight, or digging uncomfortably into your skin is to make sure your glasses are fitted specifically for your unique head shape from the get-go.
Mass-produced frames, the kind you'll find lining the walls of any large optical chain, are made to approximately fit any head shape. That's why they all look more or less the same in terms of shape and design – manufacturers play it safe with styles that will just about fit anyone. But if your head is on the larger or more petite side, these frames won't fit you. 
Smaller, independent and more traditional opticians aren't playing a numbers game. Campbell Eyecare in particular gives each and every one of our clients the time they need to choose eyewear they'll love – and to make sure their choice will fit them properly.
We go into much more depth about why you should avoid mass-produced frames in our style guide – which you can order for free here – and unearth the truth about "designer" glasses. You can also read our previous article about the difference visiting an independent optician makes and get a clearer view on what to look out for the next time you're changing up your eyewear.
Discover eyewear you'll feel and look great in
Your journey to discover eyewear that not only feels comfortable to wear but suits you in terms of design starts with Campbell Eyecare. We're an independent optician, which means we're not subject to sales targets and quotas, and we're not rushed to see as many clients as possible. We take all the time you need to make sure you go away with eyewear you'll feel and look great in – and most importantly, won't hurt to wear. 
Campbell Eyecare offers a free styling consultation service at our practices in Alness and Tain, where one of our trained, expert stylists will work with you to find that perfect piece of eyewear from our exclusive, not-on-the-high-street range. And once you've found the frames you love, we make sure you go on loving them with our "Love Your Glasses" guarantee.
Give our friendly team a call on 01349 882 863 (Alness) / 01862 892 559 (Tain) to learn more about how Campbell Eyecare makes sure you feel great in your glasses, and arrange your free eyewear consultation with us today.